We deliver reliable and safe products through our robust and thorough quality assurance system
At PST we focus on quality from the design stage and carry out production under a rigorous production management system in order to provide customers with high quality products that are safe and reliable.
We have established a thorough inspection system for finished products and guarantee quality in each inspection process while always remaining mindful of our "customer first quality assurance initiatives".
In addition, we implement a unique PST "spiraling-up" of the rigorous standards (design reviews and quality reviews) inherited from our predecessor businesses and utilize these unique standards to guarantee quality when carrying out mass production. We can also provide sample products at an equivalent level of quality as mass produced products. All of our divisions coordinate with the company working together as a whole to provide the highest quality products.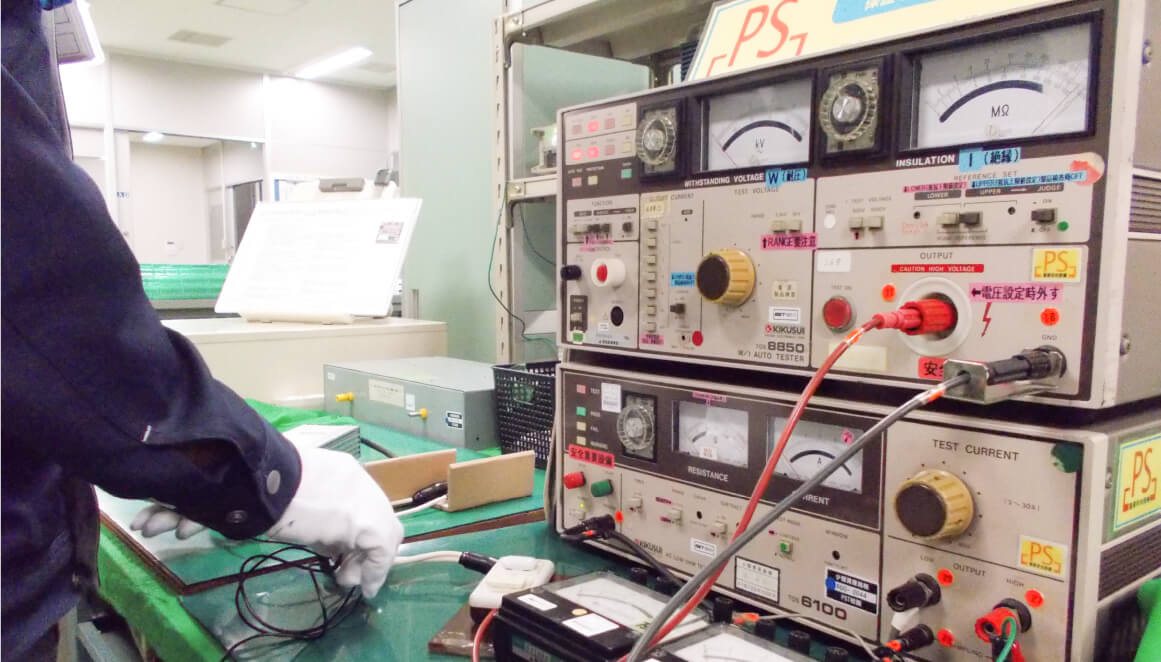 Our impressive collection of reliability testing equipment and analysis equipment helps support PST product quality
Reliability testing chambers

Reliability testing chambers

Large size constant temperature chamber

Thermal shock tester

Shielded room

Vibration testing room

X-ray fluoroscope

X-ray fluorescence spectrometer

3D scanner type 3-dimensional measuring machine
Reliability testing equipment
Equipment name
Summary
1
Thermal shock chamber
-70~200℃
(HITACHI ES-107LH) 3 units
2
Constant low temperature chamber
-70~100℃
(ESPEC PG-2KPH)
3
Constant ultra low temperature and humidity chamber
-70~100℃
(ESPEC PSL-4J)
4
Constant temperature and humidity chamber
10~100℃
60~98% RH
(ESPEC PH-4FT)
5
Constant temperature and humidity chamber
-40~100℃
20~98% RH
(ESPEC PL-2KPH) 2 units
6
Constant temperature and humidity chamber
-20~100℃
20~98% RH
(ESPEC PR-2FP)
7
Constant temperature and humidity chamber
-20~100℃
20~98% RH
(ESPEC PH-2KT) 2 units
8
Small constant temperature and humidity chamber
-20~130℃
30~95% RH
(ESPEC SH-220)
9
Constant temperature chamber
20~200℃
(ESPEC PV-220) 2 units
10
Constant temperature chamber
20~200℃
(ESPEC PH-100) 2 units
11
Constant temperature chamber
20~200℃
(ESPEC PH-200) 2 units
12
Constant temperature chamber
~300℃
(SATAKE 41-S4H)
13
Pressure cooker tester
105~162.2℃
75〜100% RH
(ESPEC EHS-411)
14
Vibration test system

ー

(IMV VS-1500A-140)
15
Vibration test system

ー

(EMIC F-06000BM/FA/Z14)
Analysis equipment
Equipment name
1
X-ray fluoroscope
(Shimadzu Corporation SMX-1000plus)
2
X-ray fluorescence spectrometer(XRF)
(SII SEA1000A)
3
X-ray fluorescence spectrometer(XRF)
(Shimadzu Corporation EDX-8100)
4
Fourier Transform Infrared Spectrometer(FTIR)
(JASCO Corporation FT/IR-4X)
5
Projector
(Nikon Profile Projector V-12)
6
Cut-off machine
(Struers  Labotom-5)
7
Grinder
(Struers  Tegramin-20)
8
Digital microscope
(KEYENCE VHX-900)
9
Digital microscope
(KEYENCE VHX-6000)
10
High Voltage C-V Measurement System
(IWATSU ELECTRIC CO., LTD. CS-603A)
11
Laser scanning confocal microscope
(KEYENCE VK-X120)
12
Wide-area 3D measurement system head
(KEYENCE VR-5200)
13
3D scanner type 3-dimensional measuring machine
(KEYENCE VL-500)
14
Roundness and Cylindrical Profile Measuring Instruments
(TOKYO SEIMITSU RONDCOM NEX200)
15
Surface Roughness Measuring Instrument
(Kosaka Laboratory SE500A)
16
Measurement contour and surface roughness measuring system
(Mitutoyo)
17
Magnet roll magnetic characteristic analysis machine
(Magnet Force)